Our treatment programs in Tacoma, WA provides individuals recovering from drugs and alcohol high-quality treatment as a part of a comprehensive rehab program and it gives these individuals the highest likelihood of long-term sobriety. However, this treatment program requires individuals to stay at the recovery facility throughout their treatment. An individual's job or family life may not permit this kind of time commitment. Therefore, Bayview Recovery offers an intensive outpatient program. These give the person in recovery all the same treatment modalities and benefits of other substance abuse treatment options. It does so in a format that better accommodates the individual's other life commitments. You won't have to sacrifice the quality of your recovery merely because you have other responsibilities.
Drugs and alcohol don't have to rule your life. With our intensive outpatient program, you can get the healing and recovery you need. Our addiction treatment programs provide expert support throughout your healing process. To learn more about this unique treatment option, reach out to Bayview Recovery today.
What is an Intensive Outpatient
Program?
There are differences between a partial hospitalization program and an intensive outpatient program. Primarily, the recovering individual has the option of going home each night after having treatment. However, an intensive outpatient program offers the same treatment modalities as a partial hospitalization program. Your intensive outpatient treatment program will be tailored to give you maximum support throughout your recovery. It will also ensure you have enough time to attend to your other responsibilities.
By giving you time to address your personal needs and the needs of your loved ones and career, you can get the treatment you need to recover without worrying about returning to additional problems at home after your treatment. Enrollees in Bayview Recovery's intensive outpatient program can leave assured they are receiving the same high-quality treatment. Always led by the same clinical team, these participants will enjoy the same long-term benefits as other program clients.
How Long
Does an IOP in Washington
State Last?
The length of an Intensive Outpatient Program (IOP) in Washington State can vary depending on the individual's needs and progress. However, most IOP programs typically last between 8-12 weeks, with sessions ranging from 3-5 days a week for several hours per day.
The length of time an individual needs to attend an Intensive Outpatient Program (IOP) before completing addiction treatment can vary depending on many factors, including the severity of the addiction, the individual's progress in treatment, and their personal circumstances. While some individuals may complete IOP in 8-12 weeks, others may require longer-term or ongoing care to maintain their recovery. It's important to work with a healthcare professional to determine the appropriate length of treatment for your specific needs.
What Does an Intensive Outpatient Program Offer?
Bayview Recovery offers a wide array of leading therapies administered by qualified counselors who have significant experience in recovery's clinical and therapeutic aspects. Our team also follows a detailed intake and assessment process, ensuring that your treatment includes the modalities most likely to work with your personality and needs, ensuring your long-term success.
Our addiction treatment center in Tacoma includes the following treatment modalities:
What are the Benefits of an
IOP?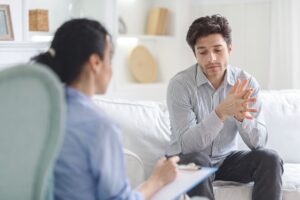 An intensive outpatient program (IOP) can offer several benefits for individuals seeking treatment for substance abuse, mental health issues, or other related conditions. Some of the key benefits of an IOP include:
Flexibility: IOPs typically offer more flexible schedules than inpatient programs, allowing patients to continue working or attending school while receiving treatment.
Affordability: Compared to inpatient programs, IOPs tend to be more affordable and may be covered by insurance.
Community support: IOPs often provide a supportive community environment where patients can connect with others who are going through similar experiences.
Customized treatment plans: IOPs can tailor treatment plans to meet the unique needs of each patient, including individual therapy sessions and group counseling.
Long-term success: Research has shown that individuals who participate in IOPs have higher rates of long-term success in maintaining sobriety or managing their mental health symptoms.
Overall, an intensive outpatient program can provide a comprehensive and effective approach to addressing substance abuse and mental health concerns while also allowing patients to maintain their daily lives outside of treatment.
It's time for that happy ending.
Who Should Attend an
IOP?
An intensive outpatient program (IOP) may be a good fit for individuals who require structured treatment for substance abuse or mental health issues but do not need 24-hour supervision or medical care. Some specific groups of people who may benefit from an IOP include:
Individuals transitioning from inpatient treatment: An IOP can provide continued support and structure for those who have completed an inpatient program.
Those with work or family commitments: The flexibility of an IOP allows individuals to continue working, attending school, or caring for their families while receiving treatment.
People seeking a more affordable option: Compared to inpatient programs, IOPs are often more affordable and may be covered by insurance.
Those with a supportive home environment: Patients who have a stable home environment and supportive family members or friends may be good candidates for an IOP.
It's important to note that each individual is unique, and the decision to attend an IOP should be made in consultation with a healthcare professional.
A qualified provider can assess an individual's needs and recommend the most appropriate level of care.
Seeking Dual Diagnosis
Treatment
Many people who are battling addiction may also be in the midst of mental health issues. These conditions often go hand-in-hand, and it is critical for the individual to get dual diagnosis treatment. This treatment option addresses both conditions simultaneously. This treatment gives you the tools to manage your mental health and addiction outside of our intensive outpatient treatment program. Our dual diagnosis treatment options include:
How Do I Handle the Costs of an
Intensive Outpatient
Treatment Program?
Patients seeking recovery should not have to worry about the costs of their treatment. The medical community recognizes addiction as a mental illness requiring professional clinical and therapeutic care. Insurance companies are required to cover at least part of these costs.
Furthermore, the Affordable Care Act also covers some of the costs of addiction recovery and rehab treatment. Bayview Recovery can help you work with your insurance provider to get you the maximum coverage allowable under your plan so you can begin treatment without delay. If you have any problems or questions in dealing with insurance, let Bayview Recovery Center help you get your coverage and the care you need.
We want this to be your first and last recovery. We believe in you.
Enroll in
Our IOP in Washington
State
The dangers of treating a substance abuse problem or addiction on your own can be significant. This approach can lead to more severe health problems, such as a lengthened addiction and even the possibility of overdose and accidental death. But do not avoid seeking treatment because you think you need to check into a 24/7 program to break your dependency. You have more options. For those struggling with a drug or alcohol addiction, Bayview Recovery provides many treatment modalities and levels of care, and we're committed to helping you find the one that's right for you. We offer a range of treatment programs, including:
Contact
Us
Our intensive outpatient program for substance abuse recovery is just one of the many options we offer to promote health, wellbeing, and a life without drugs and alcohol for you and your loved ones. Call Bayview Recovery today  to learn more.
Dave Cundiff, MD, MPH is an experienced leader in the field of Substance Use Disorder treatment. He works with patients suffering from Substance Use Disorder to evaluate their medication needs and prescribe treatments accordingly. In addition, he regularly participates in all-staff debriefing sessions involving peers, nurses, and other prescribers. He also reviews and advises on policies, procedures, and techniques for treating substance use disorder.