Women
Addiction Treatment in Washington
State
Despite suffering the negative consequences that result from drug and alcohol use and abuse, many women and men put off seeking treatment. They're often rooted in denial, believing that they can quit anytime. They tell themselves and others that they don't need a drug rehab program because they do not have a problem. However, nothing could be further from the truth.
While women and men experience addiction differently, the goal of Bayview Recovery is to lead our clients to recovery. We understand that you may have previous rehab experiences that were unsuccessful or unpleasant, but do not let that stop you from getting help for yourself or a loved one.
At Bayview Recovery, we believe that everyone in our Washington State Treatment Programs deserves the best possible care. We provide a series of evidence-based and holistic treatment options, which we tailor to the needs of the client, giving them the best possible chance for long-term recovery. Our Women's Addiction Treatment Program is also tailored to provide gender-specific treatment that addresses women's unique needs. Don't put off seeking treatment for another day. Contact Bayview Recovery to learn about our women's drug rehab program today.
How
Do Women Differ from Men in
Addiction?
Although addiction does not discriminate between genders, men and women can have different experiences and outcomes when it comes to addiction. Here are some ways in which women may differ from men in addiction:
Why Should You Seek Treatment for a Substance Use
Disorder?
There are numerous reasons, but overall you ultimately want to live your best life, free of the pain and suffering that addiction brings. Some of the more common reasons for seeking treatment include the following:
Why
Should I Seek a Women's Addiction Treatment
Program?
As a leader in addiction treatment, we have worked with many women suffering from substance use disorders, and we understand the unique challenges women face in seeking and maintaining recovery. In our experience, women thrive in women-specific treatment programs, as these programs are tailored to meet the specific needs of women and provide a safe and supportive environment for healing.
A women's specific program addresses issues that are unique to women in addiction, such as trauma, self-esteem, reproductive health, childcare responsibilities, and relationships. These programs provide comprehensive and holistic approaches to treatment, addressing the physical, emotional, and spiritual needs of women.
In a women's specific program, women can find a sense of community and solidarity, which greatly enhances the recovery process. Women can connect with other women who share similar experiences, and gain support and empowerment from fellow participants.
Additionally, these programs offer access to women-specific amenities and services, such as gynecological care, childcare support, parenting classes, and domestic violence resources.
Research has shown that women who participate in women-specific treatment programs are more likely to complete treatment and maintain long-term recovery compared to those in mixed-gender programs.
If you are a woman struggling with addiction, I encourage you to seek out a women's drug rehab program. Through compassionate and tailored care, you can find the tools and support you need to overcome addiction and achieve lasting sobriety.
Our Women's Addiction Treatment in Tacoma, Washington Can Help
Every rehab center has its own unique environment and amenities. However, when you enroll at Bayview Recovery, we offer evidence-based and gender-specific treatments that have been proven effective. Therapy is something you'll encounter in any rehab, and that's because addiction is about more than just using drugs or alcohol.
People turn to drugs and alcohol for several reasons, and getting at the heart of those reasons is key to finding sobriety. Every person has a unique addiction story, but there are many shared reasons for addiction, too. These commonly include the following:
Mental health disorders: Depression, anxiety, bipolar disorder, or PTSD from trauma are just some of the mental health conditions that can contribute to substance use disorder as many women self-medicate to mitigate mental health symptoms.
Unresolved trauma: Trauma can happen in childhood or as an adult and include sexual assault, domestic violence, and near-fatal experiences like car crashes, mass shootings, tornadoes, and warfare.
Codependent relationships: A codependent relationship is one in which someone else's well-being is dependent on the addict's drug use. This often happens in relationships with an emotionally abusive partner.
Loneliness: A feeling of profound loneliness or isolation can lead to addiction as people self-medicate to fill the emptiness they're feeling inside.
Low self-esteem: Women with low self-esteem are more likely to turn to drugs and alcohol to cope with negative feelings about themselves.
A lack of healthy coping skills: When people don't have healthy coping skills, they're more likely to turn to drugs and alcohol to deal with stress, anxiety, and other difficult emotions. These are just some of the reasons women turn to drugs and alcohol. In treatment, you'll work with a therapist to uncover the root cause of your addiction so that you can begin to heal the underlying wounds.
Reach Out to
Bayview Recovery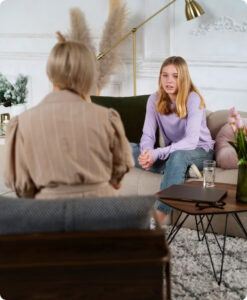 If you're ready to get help for your addiction, we're here for you. Bayview Recovery is a Joint Commission-accredited drug and alcohol rehab center in Tacoma, Washington. We offer a variety of evidence-based treatment options, including individual and group therapy, 12-step programming, and more.
We understand how difficult it is to ask for help, but we also know it's worth it. If you're ready to take the first step on your journey to recovery, contact us online. We're here to help you every step of the way.
Dave Cundiff, MD, MPH is an experienced leader in the field of Substance Use Disorder treatment. He works with patients suffering from Substance Use Disorder to evaluate their medication needs and prescribe treatments accordingly. In addition, he regularly participates in all-staff debriefing sessions involving peers, nurses, and other prescribers. He also reviews and advises on policies, procedures, and techniques for treating substance use disorder.