Every addiction is different, and you may not need partial hospitalization or inpatient treatment to get the medical assistance and counseling necessary for recovery from your own specific issues. That's why Bayview Recovery offers multiple levels of care. We want to ensure that as many individuals as possible — whatever their life circumstances — can get the help they need.
Individuals that need more flexibility in their substance abuse treatment, can get everything they need from an outpatient drug rehab center in Washington State. This program offers many of the same therapies and programs available in residential and partial hospitalization levels of care.
At Bayview Recovery located in Tacoma Washington, we're committed to addressing mental health and substance use conditions. With the help of outpatient drug rehab, you can get long-term support to overcome your addiction. We have a plan for your recovery.
What is a Washington Outpatient
Rehab Program?
A Washington outpatient rehab program is a treatment option that provides behavioral therapy and support for individuals struggling with addiction, mental health issues, or other behavioral problems. Unlike inpatient rehab programs, outpatient programs do not require patients to stay at the facility overnight. Instead, patients attend therapy sessions and receive treatment during the day while still being able to live at home or in a sober living environment.
These programs can be an effective option for those who do not require 24-hour supervision or have responsibilities such as work or family obligations that prevent them from entering an inpatient program.
How Does Outpatient Treatment
Work?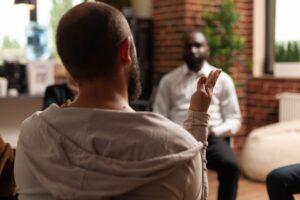 Outpatient rehab typically involves a combination of individual therapy, group therapy, and educational sessions. Patients meet with their therapists on a regular basis to discuss their progress, work through any issues or challenges they may be facing, and develop new coping skills. Group therapy sessions provide patients with an opportunity to connect with others who are going through similar experiences and offer support and encouragement. Educational sessions may cover topics such as addiction and recovery, mental health management, and relapse prevention strategies.
Patients in outpatient programs are also typically required to participate in drug testing to ensure that they remain sober throughout the treatment process. The length of time patients spend in outpatient treatment varies depending on their individual needs and circumstances. Some patients may complete the program in a few months while others may require ongoing support for years after completing the initial program.
Who is a
Good Candidate for Outpatient Substance Abuse
Treatment?
Outpatient rehab can be an effective option for individuals who are struggling with addiction but do not require 24-hour supervision or medical care. Good candidates for outpatient treatment may include:
Individuals with a supportive home environment: Patients who have a stable and supportive home environment can benefit from outpatient treatment as they can continue to receive support from their loved ones while attending therapy sessions.
Those with mild to moderate addiction: Outpatient rehab is most effective for individuals with mild to moderate addiction. Patients with severe addiction may require more intensive treatment in an inpatient setting.
Individuals who have completed detox: Patients who have already gone through the detox process and are no longer experiencing severe withdrawal symptoms may be good candidates for outpatient programs.
Those with work or family obligations: Outpatient rehab allows patients to continue fulfilling their work or family responsibilities while receiving the necessary support and care for their addiction.
Ultimately, the decision of whether outpatient rehab is right for an individual depends on their unique needs and circumstances and should be made in consultation with a healthcare professional.
When determining what level of care you need, always take into consideration a medical professional's recommendation. Outpatient treatment is a great option for those that can stick with the program. Some more severe cases of addiction may require partial hospitalization or intensive outpatient level of care.
What Does an Outpatient Drug Rehab Center
Offer?
Our Washington outpatient rehab facility offers a range of services and treatments to help individuals overcome addiction. Some of the services offered include:
Assessment and evaluation: The first step in outpatient treatment is often an assessment and evaluation process, which helps determine the appropriate level of care for each patient.
Individual counseling: Outpatient programs often include one-on-one counseling sessions with a licensed therapist or counselor who specializes in addiction treatment.
Group therapy: Group therapy provides patients with the opportunity to connect with others who are going through similar experiences, share their challenges and successes, and learn from one another.
Family therapy: Family therapy can be an important component of outpatient treatment as it involves loved ones in the recovery process and addresses issues that may be contributing to the patient's addiction.
Medication-assisted treatment (MAT): MAT involves the use of medications along with behavioral therapy to help patients manage withdrawal symptoms and cravings.
Education and skill-building: Outpatient programs may offer educational classes on topics such as stress management, relapse prevention, coping skills, and healthy communication.
Aftercare planning: Outpatient programs often provide aftercare planning services that help patients transition back into their daily lives while maintaining their sobriety.
Overall, outpatient drug rehab centers offer comprehensive care that is tailored to meet the unique needs of each patient while allowing them to continue fulfilling their daily responsibilities outside of treatment.
Let the healing begin.
What are the Benefits of Outpatient Rehab
Programs?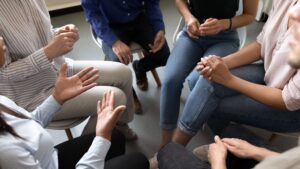 There are several benefits to outpatient rehab programs, including:
Flexibility: Outpatient treatment allows patients to continue fulfilling their daily responsibilities such as work or school while receiving the necessary care for substance abuse treatment.
Affordability: Outpatient treatment is generally less expensive than inpatient treatment as it does not require round-the-clock medical supervision and accommodations.
Access to support: Patients in outpatient treatment have access to a range of support services including individual therapy, group therapy, and peer support groups.
Individualized care: Treatment plans in outpatient programs are tailored to meet the unique needs and circumstances of each patient.
Improved family involvement: Outpatient treatment encourages family involvement in the recovery process, which can help strengthen relationships and provide additional support for the patient.
Relapse prevention: Outpatient programs often include relapse prevention strategies that teach patients how to recognize triggers and develop coping skills to avoid relapse.
Overall, outpatient rehab programs offer a comprehensive approach to addiction treatment that can help individuals achieve lasting recovery while maintaining their daily routines and responsibilities.
How Do Inpatient and Outpatient Drug Rehab Centers
Differ?
Inpatient programs offer 24/7 care for those individuals in recovery who need the most comprehensive clinical care and therapeutic treatment options. While this format provides the most robust rehab experience possible, not everyone needs this level of care. An outpatient drug rehab center can offer clients maximum freedom. It allows them to address all their other life responsibilities, including families and careers. Yet they still receive the highest-quality care and most diverse recovery experience for those struggling with a variety of addictions, including:
Individuals do not have to choose between quality care and other responsibilities; they can have both in an outpatient program at Bayview Recovery. Outpatient treatment at Bayview Recovery includes all the same modalities led by the same counselors, only in a format that recognizes you have something to recover for — a life outside of our treatment facility. When clients don't have to worry about their family and job situations, they can focus on healing without any distractions and get better faster with our outpatient drug rehab center.
Can I Afford Outpatient Drug Rehab Treatment in
Tacoma?
Addiction is recognized as a legitimate, chronic mental illness that requires clinical and therapeutic treatment. Insurance companies are required by the Affordable Care Act to cover some of the costs of your care when seeking treatment. Regardless of which insurer you have, Bayview Recovery in Washington State can work with you. We can get the maximum amount of coverage your plan allows, so you can begin treatment without worrying about how you are going to pay for it.
If you have questions or are struggling with your insurer, call Bayview Recovery now. We can help.
Seeking
Dual Diagnosis
Treatment
At Bayview Recovery, we realize that many addictions tend to link to mental health conditions. For a complete recovery, it's critical for you to address both conditions simultaneously, as untreated conditions may cause you to relapse. To prevent this from occurring, we offer a range of dual diagnosis treatment options. Dual diagnosis treatment provides concurrent treatment for both conditions. We offer a range of options, including:
Contact
Us
To learn more about seeking dual diagnosis treatment at our outpatient drug rehab center, please contact Bayview Recovery today.
Get
Get Outpatient Treatment at
Bayview Recovery in
Washington State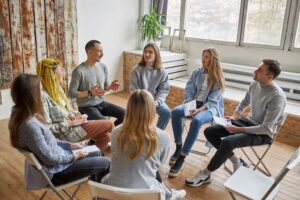 Addiction takes a considerable toll — on you, your relationships, your career, and also your well-being. But you don't have to continue to suffer from substance use or addiction. Thousands who have sought help have recovered and now lead healthy lives free from substance use. You will need help to achieve this goal, however. Bayview Recovery offers one of the most comprehensive rehab programs in the nation. We ensure you get the right treatments in an environment that also makes your recovery as comfortable as possible.
Contact us today to speak with one of Bayview Recovery's qualified addiction specialists about starting your new life without drugs and alcohol today.
Dave Cundiff, MD, MPH is an experienced leader in the field of Substance Use Disorder treatment. He works with patients suffering from Substance Use Disorder to evaluate their medication needs and prescribe treatments accordingly. In addition, he regularly participates in all-staff debriefing sessions involving peers, nurses, and other prescribers. He also reviews and advises on policies, procedures, and techniques for treating substance use disorder.