In family therapy, family members will participate in treatment along with their loved one suffering from addiction. A family therapy program will be designed based on the individual needs of the individual and each family. For example, the requirements of a married couple in a family therapy program may differ from that of a single parent and their children or that of a blended family. This flexibility in a family therapy program is intended to accommodate many different individuals, group dynamics, and circumstances.
The goal of all family therapy programs, however, is the same: to educate the family about addiction. Understanding the process of recovery enables the family to support the recovering individual as best as possible after rehab. This understanding can improve family members' accountability for their behavior. The sessions designed for the family members only (without the recovering individual) can give them the specific support they need, like showing them how to help their loved one after treatment.
For more information about the benefits of this treatment, please contact Bayview Recovery today at 855.533.0409.
How Therapy Can Help Your Family Members Cope and
Recover
Family members of an individual struggling with addiction may still not fully understand their loved one's problem. It's important for them to grasp the process of recovery. This is natural since there is much to know about addiction. Without thorough knowledge, family members will be unable to support their loved ones fully after treatment. One of the most critical concepts that family members will come away with after family therapy is that drug addiction is an illness and disease and not a choice made by their loved one. This critical takeaway alone can help transform the attitude of family members and their relationship with the individual in recovery.
How a Healthy Family Life Can Support Your
Recovery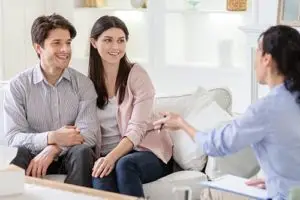 Many family members of those in recovery struggle with the gray area between helping their loved ones and enabling them. They probably have a long history of behaviors that helped sustain the addiction of their loved ones. Probably without even knowing it. It can be incredibly risky, then, for an individual to leave rehab and return home, especially where family life and past family dynamics remain unchanged. Triggers coupled with the family's enabling behaviors can quickly lead to relapse and more severe health issues.
A family therapy program helps to educate families so that they can minimize the risks their loved one faces when they return home. This is essential to help them sustain their recovery. For example, offering the individual too much help can inhibit their ability to handle issues independently. Offering too little support can leave them vulnerable. So family members need to understand the whole process of recovery. This way, they can better manage their own behaviors. This also allows their loved ones to grow in strength and independence and heal.
Patients Can Draw Critical Support From Their
Families
Proper support, especially at home, can help recovering individuals maintain their sobriety after treatment. People in recovery often feel alone, as if no one truly understands their problems or pain. When family members enter therapy with their loved ones, they can help bridge this gap, offering their loved ones greater understanding and the kind of support they need, and this can lower their risks of relapse. Also, when family members understand their loved one's triggers, they can work together to help avoid problems and handle them better when they arise..
How Family Therapy Can Help Stop the Spread of
Addiction
Genetics and hereditary play a role in determining who will succumb to addiction. This means that family members of recovering individuals statistically have a much higher likelihood of also having addiction or substance abuse problems. Healing from a drug or alcohol problem, then, will also substantially lower the risks other family members have of developing their own drug and alcohol problems.
We offer family therapy alongside a range of addiction treatment programs, including:
Your own course of treatment along with comprehensive family treatment can significantly reduce the spread of this disease to your loved ones. While adult family members can derive a significant benefit, if you have children, you can help lower or eliminate their risk of lifelong problems before they start as well.
Family Therapy at Bayview
Recovery
A comprehensive rehab program will include a broad spectrum of treatment modalities so that you have many choices and options and that an individualized rehab program can be created explicitly for your needs. Bayview Recovery offers its clients a robust family therapy model in addition to many other leading-edge modalities to give our clients the best chance of recovery. Our treatment modalities include:
Meditation, mindfulness, and yoga therapy
Art therapy
Our programs are led by qualified and trained counselors who have a wealth of experience treating addiction in people from wide-ranging backgrounds and circumstances. Further, you can have rehab in an exceptionally comfortable environment designed to feel like home so you can focus on only what matters — healing and rebuilding your life.
Call Bayview Recovery today at 855.533.0409 now to begin your journey towards health and wellbeing.
Bayview Recovery's family therapy program is an interactive workshop. It helps family members reconnect, facilitates healing, and improves their relationships. The workshop gives a loved one's family members an opportunity to contribute actively to their recovery. It can also help reframe internal family dynamics so that they may sustain the recovery process. The goal is to strengthen the family as a whole and decrease the risk of relapse.
While family members may feel apprehensive about participating in the treatment of their loved one, the benefits of participation can be significant. Bayview Recovery's family therapy workshop is facilitated by professional counselors, grounded in the latest research and findings in neurobiology and psychology, to ensure you get these benefits. You will have Bayview Recovery's full support during this phase of treatment.
The Benefit of a Family Therapy Program in Addiction
Recovery
Healthy family relationships can diminish the desire to use drugs and alcohol in recovering individuals, lowering their risk of returning to substance abuse. That's why Bayview Recovery's family therapy workshop focuses on improving relationships within the family and healing unhealthy family dynamics. Healthy relationships at home can also help sustain the recovery of individuals post-treatment.
All family members who are dealing with a loved one in recovery must learn new interpersonal skills to cope with these unique circumstances. To learn and practice these skills, you will need the help of professionals trained in recovery and family counseling. Your facilitators can model ways to handle triggers and stress as a family and help you practice these techniques together. This provides the greatest level of security for the recovering family member and can significantly reduce family.
What further complicates this aspect of recovery is that no two families are alike. That means that no single set of techniques or practices is likely to work for every family. Counselors can help you find practices that work for you and tailor instruction to your family's personality and needs. You will have a higher likelihood of continuing to put what you've learned into action and enjoying the benefits. By improving the quality of family interactions, you can positively impact the success of the person recovering and your whole family's health.
How
Bayview Recovery's Family Therapy Program
Works
During Bayview Recovery's three-day family workshop, participants will focus on the following therapeutic strategies and instructional topics in an interactive format:
Coping methods and learning new ways to interact
Shame and stigma, and how it affects both the family and client
Self-care, and how to practice it in daily life
Brain chemistry – the biology behind addiction
Communication models and how to practice non-violent forms of communication
Expectation management and how to interact with new boundaries
The family workshop begins on a Friday and continues over the weekend. Your family will meet with Bayview Recovery's clinical team first, and this team will include caseworkers and therapists. The recovering family member will join their family the next day to participate in various exercises. On the final day, the entire family will work together on a special project which will give everyone an opportunity to begin interacting in new and healthier ways. Parents, spouses, significant others, and siblings are all encouraged to attend.
Seek Family Therapy at Bayview
Recovery
While many treatment centers provide family treatment in a lecture format, Bayview Recovery takes a different approach, believing that everyone gains more from an interactive and experiential model that allows each person to test the skills they will learn in a safe and supportive environment. Our counselors will continually strive to make sure everyone in the family feels comfortable. We also ensure their needs are respected throughout their time together. When everyone feels safe and able to participate, the family will derive the most benefit.
Call Bayview Recovery today at 855.533.0409 today to learn more about our family therapy program and the benefits it can have on your family life.
Drug dreams are a common occurrence, regardless of which stage…
Dave Cundiff, MD, MPH is an experienced leader in the field of Substance Use Disorder treatment. He works with patients suffering from Substance Use Disorder to evaluate their medication needs and prescribe treatments accordingly. In addition, he regularly participates in all-staff debriefing sessions involving peers, nurses, and other prescribers. He also reviews and advises on policies, procedures, and techniques for treating substance use disorder.